The 2021 Subaru Love Promise Community Commitment Award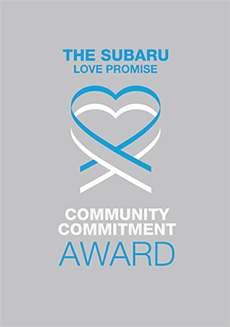 We've been nationally recognized for our dedication to our community and the Subaru Love Promise.
We're honored to receive the 2021 Subaru Love Promise Community Commitment Award. This award nationally recognizes Subaru retailers who are making the world a better place while demonstrating an outstanding commitment to supporting passions and causes in local communities. These efforts are focused in important areas such as the environment, community, health, education, and pets.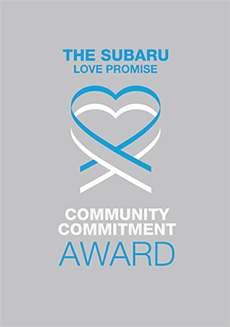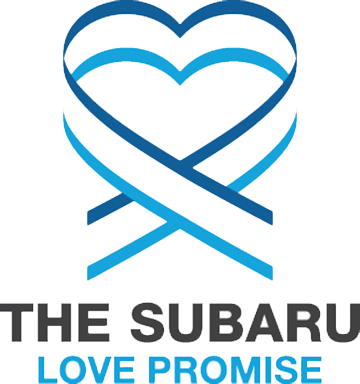 What is the Subaru Love Promise?
Subaru and our retailers believe in making the world a better place and the Subaru Love Promise is our vision of respecting all people. This is our commitment to show love and respect to our customers and to work to make a positive impact in the world.
How is Quirk Works Subaru dedicated locally to the Love Promise?
Our Love Promise can be seen in various partnerships with local charities and non-profits. We're grateful for the opportunity, not only to be a part of our community, but to serve it as well.
Quincy Animal Shelter, Quincy, Ma.
Point Webster Middle School, Quincy Ma.
Father Bill's Place, Quincy, Ma., South Shore YMCA
Ocular Immunology and Uveitus Foundation, Boston, ma.
Love Promise Stories from Quirk Works Subaru
Subaru and Quirk Works Subaru believe in making a positive impact on the communities in which we live and work. We uphold that belief through our Love Promise Community Commitment. Every month, we select inspiring stories from customers and partners from around our area who strive to support our collective commitment and feature them here
Jax: from Wounded to Happy an Underdog story - JAX T
For our underdog story we are featuring Jax, a beautiful German Shepard. He came to Quincy Animal Shelter because his owner could no longer care for him. When he arrived we realized his metal prong collar had never been removed and was embedded in his skin. Just imagine how uncomfortable and painful that must have been. Our volunteers and medical team came to his rescue and were able to successfully remove the collar so that Jax could heal. He is now fully healed and happy. He is enjoying his time in a foster home but still hoping that Furever home will be ready for him soon. He is a great dog. Sometimes just a little attention can go a very, very long way, especially for animals. Thanks Subaru- Your friends at Quincy Animal Shelter
---
Protection from the stinging freeze of winter - Patrick R
For our neighbors sleeping outdoors, finding warmth on a harsh winter night isn't just a matter of comfort. For some, it's a matter of life and death. Ted, a Marine Corps Veteran and former police officer, will never forget the feeling of having no home during the bitterly cold winter months. "I know what it's like to be living in a car in the winter and you feel the sting of freezing weather," remembers Ted, now 76 years old. A recent donation from Subaru of America and Quirk Auto Dealers will help Father Bill's & MainSpring (FBMS) bring comfort to individuals like Ted this winter. Subaru of America and Quirk Auto Dealers generously donated 80 blankets constructed with soft fleece on the inside and waterproof material on the outside. FBMS' outreach team will bring these blankets along with other essential items to our neighbors staying outdoors. Sadly, the pandemic and its economic impact have resulted in more individuals becoming homeless and sleeping outside. This past year, FBMS formed a new Triage Department and has begun investing in additional street outreach and homelessness prevention services. We rely on donations from companies such as Subaru of America and Quirk Auto Dealers to help protect our most vulnerable neighbors. We're happy to report that Ted is now living in a home of his own! After sleeping in his car, Ted entered FBMS' shelter in Quincy, where he received help obtaining a VA housing voucher.
---
Blankets Arrive at Father Bill's & MainSpring - Rachel V
Quincy, MA–Cold weather hits pretty hard at night, especially if you're one of the homeless individuals living on the streets of Quincy and in dire need of shelter. Father Bill's & MainSpring (FBMS) is currently providing emergency shelter to approximately 260 individual adults and to more than 130 families per night. "Our dedicated outreach team works very hard to identify individuals who are sleeping outdoors to make sure they have the resources and supports they need, particularly as the temperatures drop and we're contending with life-threatening conditions," said Catie Reilly, Father Bill's & MainSpring (FBMS) Chief Development Officer. In recognition of National Homeless Youth Awareness Month, Subaru of America and Quirk Auto Dealers have donated 80 fleece waterproof blankets to FBMS with hopes to provide some measure of comfort to Quincy's homeless population. "We are grateful for this thoughtful blanket donation from Quirk Auto Dealers through the Subaru Loves to Help initiative. Kind donations like these will help bring comfort and warmth to our most vulnerable neighbors this winter.", said Reilly. According to FBMS, within the past year, the organization has formed a new Triage Department and has begun investing in additional street outreach and homelessness prevention services. The number of people sleeping outdoors has increased during the pandemic. In addition to these new efforts, FBMS has expanded their Tenancy Preservation Program to help keep up with an increase in evictions caused by the COVID-19 pandemic.In Quincy, FBMS is moving ahead with a new Housing Resource Center development which aims to transform how our community approaches homelessness and reduce reliance on emergency shelter by investing in homelessness prevention, diversion, and rapid re-housing. The new Triage Department is part of our transition to this Housing Resource Center service-delivery model.The new development, to be built by summer 2023 at 39 Broad Street in Quincy, will include a day center with co-located resources including a full, primary-care medical clinic, substance use and mental health services and housing assistance. There will also be shelter beds with lockers and showers for guests; a commercial kitchen space and dining area; administrative offices, and a second building with 30 units of permanent supportive housing for formerly homeless individuals. To help support the homeless in Quincy, Father Bill's & MainSpring is asking the community for online donations, and prepared meals. Learn how you can help by visiting https://helpfbms.org/coronavirus.
---
Quirk Subaru Donated To animal Shelter - Joshua S
I was really happy when I read that my local Subaru store donated to the shelter we got our family dog from! See link below https://www.patriotledger.com/story/news/local/2020/10/28/quirk-donating-100-to-quincy-shelter-per-adopted-animal-through-oct-31/114515862/
---
Point Webster Recognizes Students of the Month - Christine B
Point Webster Middle School with the assistance of Quirk Subaru is able to recognize "Students of the Month" in grades 5, 6 7 & 8 throughout the 2020-2021 school year. Students are recognized for their hard work, dedication and character. Student of the Month recipients are nominated by the faculty and staff of Point Webster. With the help of Quirk Subaru, Point Webster is able to provide students excelling in these areas with certificates, medals and other small incentives to continue to stay 'on Point.' We look forward to continuing our partnership with Quirk Subaru.
---
Bringing Warmth In a Winter Like No Other - Patrick R
At Father Bill's & MainSpring (FBMS), we are facing our most challenging winter in the 38-year history of our agency. During the COVID-19 pandemic, our organization (a regional non-profit that assists individuals and families experiencing, or at risk of, homelessness) has opened up additional emergency shelters in Quincy and Brockton, allowing for social distancing among guests. We have also responded to a significant rise in the number of people sleeping outdoors during these co-occurring public health and economic crises. As the winter months approach, we are increasing our outreach efforts and making contingency plans to ensure that nobody is left out in the cold this winter. Our plan received a big boost recently when we received a very generous donation from Quirk Works Subaru. The auto dealer donated 80 blankets constructed with soft fleece on the inside and waterproof material on the outside. These blankets will help bring comfort and warmth to individuals experiencing homelessness in our community. This is especially critical for individuals sleeping outdoors or in their cars. When temperatures drop below freezing, a warm fleece blanket could make the difference between life and death. The pandemic has significantly increased our agency's monthly operational costs, so we are relying on our supporters more than ever to make in-kind donations. By donating these blankets, Quirk Works Subaru allows us to direct more of our resources to provide the extra shelter space needed to protect our neighbors experiencing homelessness, many of whom are elderly or immunocompromised. Aside from the physical benefits of having a warm blanket, our guests also receive an emotional lift when they receive donations from our community. It means a lot to our guests to know that Quirk and Subaru, two well-respected companies, are thinking about their needs at this difficult time.
---
Nima's new furever home - emily d
The Quincy Animal Shelter knows all about a good love promise story. Day in and day out, we have pets brought to our shelter with challenging backgrounds but the strength and happy ending every animal deserves. Recently, a Siberian Husky named Nima had such trouble. When our community discovered his owners had moved out and left him behind in their apartment, neighbors called animal control. The Quincy Animal Shelter took on and paid for his medical needs, including neutering, vaccines, and microchipped. Naturally, he was quite stressed, but Nima turned around quickly, becoming one of the friendliest Siberian Husky's our volunteers have ever had, even befriending a young lab mix puppy names Sassy! Nima became her surrogate parent, teaching her what was and was not acceptable. He patiently allowed her to crawl all over him, and so was gentle when he played with her! It was apparent Nima liked other dogs very much. Recently, Quincy Animal Shelter placed Nima in a home with a female Siberian around the same age, and they are incredibly happy! Not to forget Sassy, she also found her forever home with a longtime Quincy Animal Shelter volunteer!
---
Point Webster Partners with Quirk Subaru - Christine B
Point Webster Middle School recently partnered with Quirk Subaru through the 2019 Subaru Loves Learning Initiative. This partnership enabled Quirk Subaru todonate over 150 STEM books to our science and technology classes. Last week, students in Ms. Roger's grade 6 science classes read, "My First Book of Quantum Physics." This book takes difficult science concepts and makes them accessible to students with entertaining illustrations and simple language. Here, students are reading about Isaac Newton and his contributions to our knowledge of gravity and motion. Later in the year, students will use the books again to study: radioactivity as we learn to date fossils; atoms and molecules when we study chemistry; and light waves when we get to the electromagnetic spectrum! Thank you to Quirk Subaru for donating so many STEM related books to our school through Subaru Loves Learning!
---
Quirk Works Subaru "Loves to Care" - South S
Greetings, during the month of June 2019 we set up our display for the "Subaru Loves to Care" event in our Subaru store. One of the elements of the display were the Messages of Hope Cards. These were delivered to the Leukemia and Lymphoma Society representatives at the South Shore Hospital along with the blankets and the arts and crafts kits in July. It was quite touching to see our Subaru customers and employees taking the time to write a well thought out "message of hope" to strangers afflicted with this disease. Invariably, if one of us was fortunate enough to talk with these folks it became clear that they had someone in their family or had friends that were sickened with cancer. Since they had experience with the disease one could simply feel the emotion in the messages they were sending. It seems that there is a solid kinship among the people personally affected with this disease and strangers who might also be affected with this disease. We feel fortunate to have been a part of this event. Moreover, we are thankful that through the Subaru initiative we could help facilitate bringing these people together. Thank you.
---
Thank you for sharing the love! - Amy H
On June 28, 2017, the team at Quirk Works Subaru delivered blankets and craft kits to a Brigham and Women's Hospital in partnership with the Leukemia and Lymphoma Society as part of the Subaru Love Promise program.Thank you Quirk Works for providing love and warmth to cancer patients during their treatment!
---